Agencies & Associations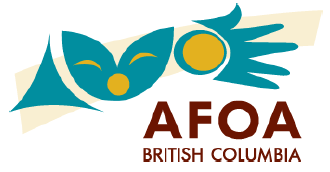 Aboriginal Financial Officers Association of BC
Professional Association
Mail: 1010 - 100 Park Royal, West Vancouver, BC, V7T 1A2
Street: 100 Park Royal
Phone: 604 925-6370
Fax: 604 925-6390
[email protected]
Healthy, Prosperous Aboriginal Communities
Healthy, prosperous Aboriginal communities rely on effective leadership, solid economic foundations and a strong sense of community pride. This is the premise upon which the Aboriginal Financial Officers Association of BC (AFOA) was founded in 1996.

We Are You!
AFOA is people helping people. We support the dedicated individuals working in the fields of Aboriginal finance, administration and governance. By providing the highest quality training and professional development, offering the latest tools and resources, and lobbying for our members' needs, we work toward a vision of social, economic, and cultural prosperity for all Aboriginal people in BC.
For more on what we do, see our list of Member Benefits.

Our Vision:
Social, Economic, and Cultural prosperity for all Aboriginal people and communities in BC.

Mission:
To support effective leadership in the areas of Aboriginal wealth creation, fiscal management, administration, and governance. In a survey of AFOA members, AFOA was ranked above average compared to other organizations that provide similar training. Receive discounts on all our services by becoming a member!
 
Organization Resources
Back to Top