News Release
< Previous
Article 7 of 74
Next >
May 21, 2020, 10:01 am
City of Courtenay Expanding Sidewalk Café Options
City of Courtenay
COURTENAY - Downtown Courtenay restaurants interested in opening a sidewalk café now have more options that will support their efforts to stay financially viable while they adapt to significant challenges posed by the COVID-19 pandemic.

Courtenay Council has approved a change to the sidewalk café program that would expand outdoor seating capacity. The change is intended to help restaurants meet physical distancing requirements, while increasing potential income.

The addition to the existing sidewalk café program will allow restaurants to build a sidewalk patio across the sidewalk and spanning the full width of their business, or potentially even wider if adjacent businesses indicate their support. Previously, sidewalk café options were required to be immediately adjacent to the storefront.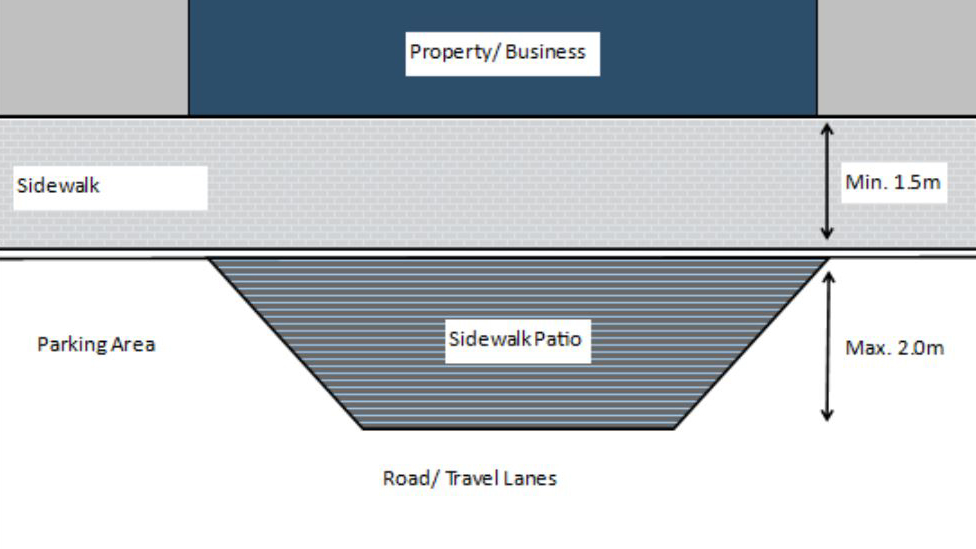 Restaurants will be required to maintain a minimum 1.5 metre-wide sidewalk for pedestrians. Translucent plastic shields may be installed on top of patio fencing, and the patio may occupy up to three on-street parking stalls, an increase from the previous two-stall maximum.

Courtenay Mayor Bob Wells said the change to the sidewalk café program was spurred by an application from a downtown restaurant owner. "Our Council is extremely concerned about the impact COVID-19 has had on businesses throughout our community, so we were excited by this proposal from Nikkei Ramen-Ya to modify their sidewalk patio.

"Our vibrant downtown core is a gem worth protecting, and this expansion of the sidewalk café program is a quick win. I'd like to thank staff for responding to this request so quickly, and adapting the sidewalk café program to expedite future applications. We're looking at every possible way we can help our businesses with the tools at our disposal, and we're advocating for support at the provincial and federal level as well."

Other Council measures to support the local business community in response to COVID-19 include extending the deadline for annual flat commercial utility billing, approved by Council in late March.

The sidewalk café program has been running since 2016. The program was developed through a downtown revitalization process, which included a series of consultation events with the downtown business community and the public. The resulting Downtown Courtenay Playbook: A Partnership Action Plan presents a long-term overarching vision and goals, along with a list of actions and broad timelines to help achieve them.

For more information about the sidewalk café program, visit www.courtenay.ca/downtown

Original post
Back to Top