News Release
< Previous
Article 28 of 93
Next >
February 27, 2019, 9:44 am
New population projections for City of Colwood in Demographic Study
City of Colwood
COLWOOD - Colwood Council has endorsed a new Demographic Study that projects a 35% population increase by 2028 and an additional 16% increase by 2038. The projections are broken down by each neighbourhood within Colwood. It also identifies the availability of commercial and industrial land in Colwood. This study was one of the priority actions identified in the City's 2018 Official Community Plan.

Estimated population growth
2016 Census 2028 Projected 2038 Projected
16,850 22,742
(35% increase) 26,484
(16% increase)

It is anticipated that the majority of this growth will be concentrated within the Seaside, Royal Bay, Colwood Corners and Latoria neighbourhoods.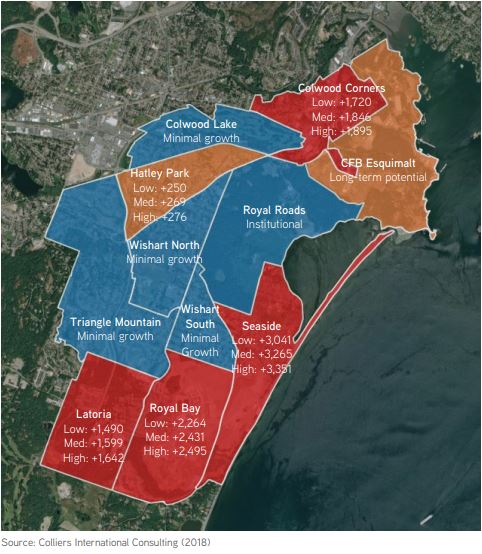 Retail development
The study determined the potential for up to 204,000 square feet of retail development within the City and recommended that planning efforts be focused on facilitating retail supply in the Royal Bay, Seaside and Latoria neighbourhoods.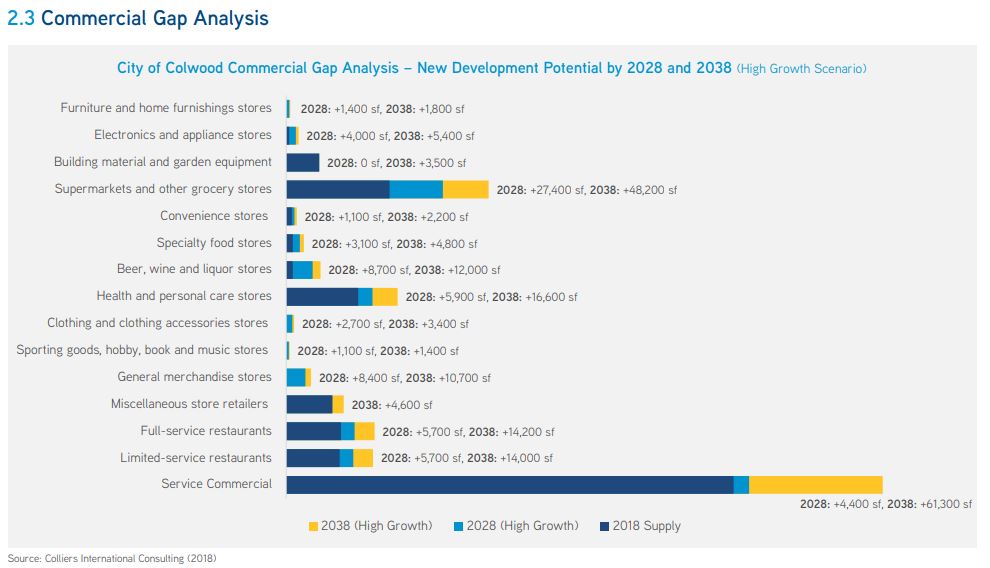 New housing units
The report considered projected amounts of new housing units within each Colwood neighbourhood. The analysis included historical growth and identified the neighbourhoods that are likely to develop sooner than others.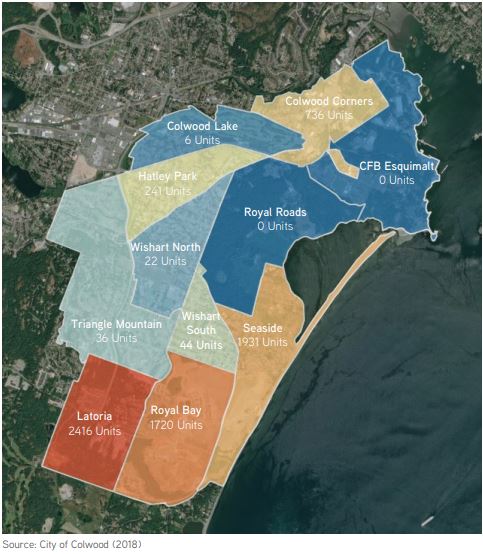 Industrial land supply
The report concluded that existing industrial land supply will not exceed demand for the next 20 years.

Beyond demographics - transportation impacts
While transportation impacts were outside the scope of the demographic study, the City acknowledges that population growth can result in transportation challenges. Every growing City around the world faces the challenge of increasing traffic congestion. It impacts quality of life, finances and environment.

Solutions will need to be multi-faceted and collaborative. Staff are coordinating transportation planning between major development partners to realize intersection upgrades, traffic flow improvements and pedestrian and cycling enhancements. BC Transit is currently planning for priority lanes between Colwood Corners and downtown Victoria, and envisions a transit hub in Royal Bay. BC Ferries is exploring the feasibility of a ferry between Royal Bay and Victoria Harbour.

Background
Read the staff report to Council which includes the full City of Colwood Demographic Study and Land Yield Analysis.

View the full text of this press release
Back to Top