2018 ICMA ANNUAL CONFERENCE – BALTIMORE, MARYLAND – SEPTEMBER 23-26, 2018
ICMA's 104th Annual Conference will take place in Baltimore, Maryland from September 23-26, 2018. This year's Conference will include a special focus on creating smart communities that last and where people of all ages can live and thrive together. In addition to stimulating keynote speakers, the Conference program features a vast variety of educational opportunities, including many sessions with international relevance and colleagues from around the world sharing their best practices. ICMA also offers an incredible Exhibit Hall along with a full calendar of social, networking and recreational activities of Baltimore's beautiful attractions.
We certainly understand that recent dialogue between elected leaders in Canada and the United States has possibly had an impact on how some Canadian ICMA members feel. That being said, we believe that the true value in local government is the strong relationship we have with our counterparts in the United States and affiliate partners from across the world. We hope that the dialogue at the National level will not have a negative impact on continuing to support the ICMA and that we will see you in Baltimore in 2018, Nashville in 2019 and then in Toronto for 2020.

ICMA members in eastern Canadian provinces (New Brunswick, Newfoundland and Labrador, Nova Scotia, Ontario, Prince Edward Island, and Quebec) who are attending their first ICMA Conference are also eligible for a $200 discount off the registration fee. Please enter the discount taken and a brief explanation in the "Special Discount Taken" line in the payment section of the registration form.
CAMA enjoys a close working relationship with ICMA and through our affiliation agreement, CAMA members can join ICMA at a substantially reduced rate of $135 (US dollars) per person, an average savings of $800. To participate in this discounted ICMA membership offer, complete the
registration form
.
Hope to see you all soon!
Sincerely,
David Johnstone, ICMA President (former City Manager for the City of Candiac, QC)
Marc Landry, CAMA President (City Manager of the City of Moncton and Past Vice-President of ICMA)
Tim Anderson, Chief Administrative Officer, City of Waterloo, ON and Vice-President of ICMA
CONTEST ENDS JULY 13TH: HOW CAN YOU GIVE BACK TO YOUR PROFESSION AND HELP CAMA GROW?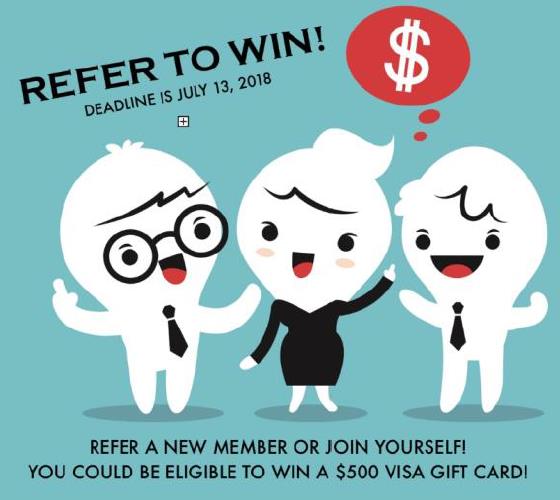 Ask your colleagues or direct reports to join you by becoming CAMA members, and you could
win a $500 VISA gift card!
All of the details can be found on the
campaign webpage
. Please also share our
latest video
about CAMA. The second and each additional member from every individual municipality can join CAMA for only $137.50! That provides access to CAMA's professional resources at an amazing price. Plus, we all know that networking is CAMA's greatest value, so inviting your talented co-workers makes CAMA better for all of us.
Take a minute now, and forward this email to your direct reports, colleagues and neighbours who are on track for municipal leadership positions, and make CAMA better for all. You chance to win ends July 13
th
!
National Education Award

The Civicjobs.ca* Education Award recognizes individuals that are pursuing educational programs that focus on local government education.

Am I eligible?
To be eligible, you must be enrolled in a post-secondary local government specific education program and be employed by a Canadian local government or non-profit organization that supports local government in Canada. Students may be in certificate, undergraduate, post-baccalaureate, and graduate programs; all are all eligible.


How do I apply?
Visit this link for more information and to place your application: https://form.surveypal.net/Civicjobs.ca-Scholarship

When is the deadline?
Completed applications are due no later than 4pm on July 20th, 2018.

What is the value of the award?

The 2018 award will be $1,000, paid direct to the recipient following final selection in September 2018.

*CivicJobs.ca is a national local government job board owned and operated by CivicInfo BC, a Victoria-based not-for-profit local government information service. We proudly

partner with professional associations

from coast to coast to coast in the production of this service.



EXIT INTERVIEW BEST PRACTICES


Thank you to the many CAMA members that forwarded their Exit Interview Questions to the National Office. A best practices document has been compiled and can be found in the

Member's Section

of the CAMA Website under the Awards of Excellence/Best Practices section.



ALBERTA MEMBERS: MUNICIPAL INTERNSHIP PROGRAM LAUNCHES FOR 2019


FEATURED CAMA AWARD SUBMISSIONS
Coquitlam's Housing Affordability Strategy and Implementation
A local approach to one of Canada's most pressing issues, Coquitlam approved a Housing Affordability Strategy (HAS) on December 7, 2015. Developed from a discussion paper in 2013, to a framework in 2014, then through consultation with the development industry, housing partners, stakeholders, and the public in 2014 and 2015 - it was implemented in 2016. Coquitlam's goal is to work with partners from all sectors to ensure that a wide variety of housing types, sizes, tenures and prices will be available in the future. Departing from past approaches, the HAS expands from addressing only those in the greatest need, and takes a broader view, to address affordability along the entire housing continuum. The HAS is organized around four key policy objectives: foster housing affordability though innovation; promote affordable living; leverage the City's Affordable Housing Reserve Fund; and build strategic partnerships. These are supported by a framework of 14 policy directions and 54 actions. The city commits to take on roles appropriate and proportional to its authority and resources, but requires partner contributions to be successful. Implementation action items are already delivering better than anticipated results.
The City of Coquitlam submitted a nomination to the 2017 CAMA Awards of Excellence Program under the Willis Award for Innovation Category for municipalities with a population over 100,000. If you would like to see their full submission please visit the
CAMA Member's Section
, Awards of Excellence/Best Practices section and search "Coquitlam". If you would like more information please contact Jim McIntyre, GM of Planning and Development. at
[email protected]
or 604.927.3401
Development Investment Facilitation and Retention Targeting
The City of Edmonton places a high level of importance on the business retention and expansion program support and collaboration with local businesses. Edmonton's Economic Investment and Development Section objectives are to coordinate and facilitate industrial investment development. The team created two programs in 2016 to achieve these objectives: Development Investment Facilitation Program and the Retention Targeting Program. The goal of strengthening the relationship between the City and the non-residential business sector with a strong focus on industrial development is a priority.

Geo-referenced business data is compiled by the City's Economic Sustainability Analytics team producing thematic maps that shows areas of potential investment activity. Monitoring and tracking engagements is achieved using a web-based Customer Relations Management (CRM) system generating monthly reports to ensure inquiries are responded to in a timely manner. The Economic Sustainability team has economic development expertise to support growth and development for new and existing businesses.
The City of Edmonton submitted a nomination to the 2017 CAMA Awards of Excellence Program under the Willis Award for Innovation Category for municipalities with a population Over 100,000. If you would like to see their full submission please visit the
CAMA Member's Section
, Awards of Excellence/Best Practices section and search "City of Edmonton". If you would like more information please contact Brad White at 780-442-0907 or
[email protected]
WELCOME NEW MEMBERS!
Angela Malcolm, Director of Long Term Care Services, The County of Lennox & Addington, ON
Heather Nanninga, Director of Corporate Services, Big Lakes County, AB
Jacqueline East, General Manager, City of Brandon, MB
Rob Simonds, Chief Administrative Officer, Municipality of the County of Colchester, NS
Tracy Thomas, Chief Administrative Officer, Village of Carmacks, YT
CAMA e-Brief is published every two weeks. Watch for the next issue on: The week of July 23rd, 2018
To view the last CAMA e-Brief, visit: http://www.camacam.ca/archive
Job Scene is distributed every week. The Next issue will appear on: Monday, July 16th, 2018
To view the latest Jobs go to: http://www.camacam.ca/jobs
To have an item included in e-Brief, please contact

[email protected]


To unsubscribe from this list simply reply to this email, or send an email to

[email protected]

, Subject: UNSUBSCRIBE.
Platinum Sponsor
Gold Sponsor