HOW CAN YOU GIVE BACK TO YOUR PROFESSION AND HELP CAMA GROW?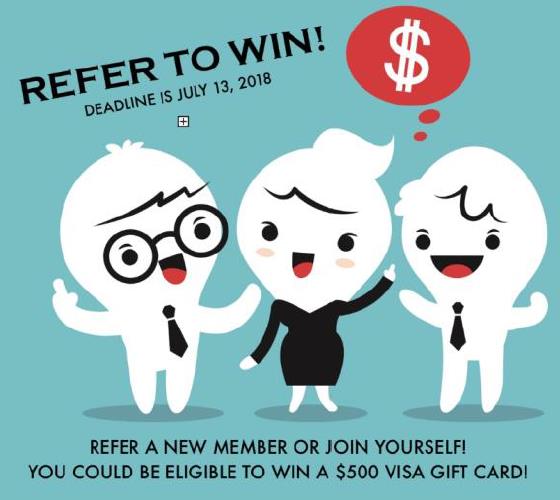 SIGN UP A COLLEAGUE & WIN!

Who in your organization is ready for leadership development? Which neighbouring local government leaders would benefit from access to CAMA`s resources? We believe that shared wisdom leaves a lasting impact. We are seeking your support in growing our Association.

As a current member, you know the value of CAMA. Now, we invite you to give back to the profession and

consider sharing that value

with your colleagues from small, large, urban and rural communities through a CAMA membership. CAMA is an Association for everyone. You can be confident that new members will benefit from the exchange of knowledge and experience of over 600 senior managers across Canada.

Ask your colleagues or direct reports to join you by becoming CAMA members, and you could

win a $500 VISA gift card!

All of the details can be found on the

campaign webpage

. Please also share our

latest video

about CAMA.

The second and each additional member from every individual municipality can join CAMA for only $137.50! That provides access to CAMA's professional resources at an amazing price. Plus, we all know that networking is CAMA's greatest value, so inviting your talented co-workers makes CAMA better for all of us.

Take a minute now, and forward this email to your direct reports, colleagues and neighbours who are on track for municipal leadership positions, and make CAMA better for all. Hurry, your chance to win ends July 13

th

!

Marc Landry

CAMA President

QUE POUVEZ-VOUS FAIRE POUR SOUTENIR VOTRE PROFESSION ET AIDER L'ACAM À GRANDIR?

Parrainer un collègue… son adhésion pourrait vous valoir un prix!
Qui sont les personnes de votre organisation prêtes pour le développement du leadership? Qui sont les personnes dirigeantes de municipalités voisines de la vôtre qui pourraient profiter des ressources de l'ACAM? Nous croyons que transmettre la sagesse laisse une empreinte durable et nous cherchons à avoir votre appui pour faire croître notre Association.

En tant que membre actuel, vous connaissez bien la valeur de l'ACAM. Maintenant, nous vous invitons à soutenir votre profession et à envisage de faire partager cette valeur à vos collègues de différentes communautés, qu'elles soient petites, grandes, urbaines ou rurales, grâce à l'adhésion à l'ACAM, une association non sélective. Vous savez pertinemment que les nouveaux membres bénéficieront des connaissances et de l'expérience de plus de 600 gestionnaires supérieurs à l'échelle du Canada et des interactions possibles. Demandez à vos collègues ou aux personnes qui relèvent directement de vous de se joindre à l'ACAM et vous pourriez tous deux

gagner la carte-cadeau Visa de 500 $!

Tous les détails se

trouvent ici.

Voici notre

vidéo

sur l'ACAM (en anglais seulement).

La cotisation d'un deuxième membre d'une municipalité et les suivants ne coûte que 137,50 $! C'est peu pour avoir accès à toutes les ressources professionnelles de l'ACAM. D'ailleurs, sachant que le réseautage est le plus grand avantage que donne l'ACAM, notre organisation n'en sera que meilleure pour tout le monde si vous invitez vos talentueux collègues à se joindre à nous.

Prenez le temps d'envoyer ce courriel à vos proches collaborateurs, collègues et voisins qui ont le potentiel d'occuper un poste en leadership municipal et vous rendrez l'ACAM meilleure pour tout le monde. Faites vite, votre chance de gagner dure seulement jusqu'au 13 juillet!


Marc Landry
Président de l'ACAM


CAMA 2019 ANNUAL CONFERENCE - HOTEL ROOM BLOCK NOW OPEN!

The 48th Annual CAMA Conference will be held in Québec City from Monday, May 27
th
, 2019 to Wednesday, May 29
th
, 2019 at the Hilton Quebec and the Convention Centre. The host hotel will be the Hilton Québec (connected to the Convention Centre). The Golf Tournament and other Pre-Conference activities will begin on Monday morning with the Conference Program ending after the President's Dinner on Wednesday evening.
The Québec City Convention Centre is strategically located in the heart of this unique city and is just steps from Old Québec. Underground passageways connect the Convention Centre to the Hilton Québec.
ACCOMMODATIONS
CAMA has secured a block of rooms at the Hilton Québec. Reservations can be made by calling 1-800-447-2411 or 418-647-6500 or using this customized
link
specially for the CAMA Conference.
Choose Attendee.
A credit card will be required to guarantee the room upon reservation. After April 20th, 2019, for any reservation cancelled, the first night's stay will be charged on the credit card.
The Full Conference Program and on-line registration will be available at the end of February 2019. All other Conference information can be found on the
website
.
We look forward to seeing you next May 2019!
GOVERNMENT OF CANADA LAUNCHES FUND TO BETTER PROTECT CANADIAN COMMUNITIES AGAINST NATURAL DISASTERS
Amarjeet Sohi, Minister of Infrastructure and Communities launched the Government of Canada's Disaster Mitigation and Adaptation Fund (DMAF) - a national program that will invest $2 billion to help communities adapt to the impacts of climate change and protect against future natural disasters. Climate change is having a dramatic impact on Canadian communities from coast to coast to coast: floods, wildfires, and winter storms are getting worse... and more frequent. By planning for future extreme weather events, communities can lessen the need to rebuild – they can get their communities and quality of life back to normal faster. The Disaster Mitigation and Adaptation Fund is available to communities across Canada. It's a merit-based fund, meaning that communities will submit their large-scale infrastructure projects directly into Infrastructure Canada for consideration. Learn more by reviewing the
backgrounder
or visiting the
website
.
BC MEMBERS: 14th ANNUAL WOOD WORKS! BC COMMUNITY RECOGNITION AWARDS
This year marks the 14th year Wood WORKS! BC will recognize and celebrate the successes of communities across the province which have built projects using wood. The nomination form for the 2018 Community Recognition Awards is available online at
www.wood-works.ca/bc
. If you know of a wood structure that was completed by a local government in the last three years, please consider nominating it -
it will only take 5 minutes!
The process is really simple. Just go online and follow the instructions to enter the project by the nomination deadline of August 24th. That's it! If you have questions about your nomination, please contact Peter Moonen at 1.877.929.9663 ext. 4, (
[email protected]
). The 2018 Wood WORKS! BC Community Recognition Awards will be presented at the annual Area Association Luncheons at the 2018 UBCM convention in Whistler from September 10-14, 2018.
FEATURED CAMA AWARD SUBMISSIONS
Paradise Double Ice Complex
The Paradise Double Ice Complex received LEED® Silver certification from the Canada Green Building Council. The facility is only the second building in Newfoundland and Labrador to receive the international credential and the first in the province to receive it under the LEED Canada 2009 Silver project guidelines. The Paradise Double Ice Complex is the recreational cornerstone for the Town.
From conceptual stage through to operation of the Paradise Double Ice Complex, environmental impact was paramount and it was designed and constructed to achieve LEED certification. The facility has a number of environmental management features including indoor water use reduction, refrigerant management, use of recycled materials, electric ice maintenance equipment, and others. In addition, there are designated parking spaces for those who choose to carpool to our facility along with charging stations for electric vehicles. These efforts have resulted in 58% in total energy cost savings, 57% energy savings, and over 36% reduction in indoor water use. The facility has over 20% recycled content and is constructed on a re-mediated brownfield site, which was formerly home to a steel mill.
The Town of Paradise submitted a nomination to the 2017 CAMA Awards of Excellence Program under the Willis Award for Innovation Category for municipalities with a population 20,001 to 100,000. If you would like to see their full submission please visit the
CAMA Member's Section
, Awards of Excellence/Best Practices section and search "Town of Paradise". If you would like more information please contact Lisa Niblock at 709-782-6219 or
[email protected]
Regional Housing First Program
In December 2015, the Capital Regional District Board approved borrowing up to $30 million to create the RHFP (Regional Housing First Program) to contribute to the capital costs associated with building affordable housing to be used to address the needs of people experiencing chronic homelessness in the region. In May 2016, the CRD entered into a Partnering Agreement with the BC Housing and Island Health through which the Province has committed to contribute a matching $30 million to the RHFP. The RHFP is an investment in the region's long-term vision of a responsive, coordinated supportive housing system. This innovative partnership with the Provincial government and supported by the Greater Victoria Coalition to End Homelessness aims to create at least 268 supported housing units at provincial shelter rates and at least 1000 affordable and market housing units. The partners also undertook a Process Mapping Project to chart the region's supported housing system, to identify gaps and bottlenecks and to explore opportunities for improvements.
The Capital Regional District submitted a nomination to the 2017 CAMA Awards of Excellence Program under the Willis Award for Innovation Category for municipalities with a population over 100,000. If you would like to see their full submission please visit the
CAMA Member's Section
, Awards of Excellence/Best Practices section and search "Capital Regional District". If you would like more information please contact Robert Lapham, Chief Administrative Officer, Capital Regional District at 250.360.3124 or
[email protected]
CAMA e-Brief is published every two weeks. Watch for the next issue on: The week of July 16th, 2018
To view the last CAMA e-Brief, visit: http://www.camacam.ca/archive
Job Scene is distributed every week. The Next issue will appear on: Monday, July 9th, 2018
To view the latest Jobs go to: http://www.camacam.ca/jobs
To have an item included in e-Brief, please contact

[email protected]


To unsubscribe from this list simply reply to this email, or send an email to

[email protected]

, Subject: UNSUBSCRIBE.
Platinum Sponsor
Gold Sponsor